To tell the truth september was a bad month for me. I read only about two webtoons this month. I had to concentrate on my exams so I briefly stopped reading mangas and well the good news is I'm back to reading. I read more than 10 mangas starting this month. Well that's for another day, let's get into the two webtoons I read last month.
---
My boo
---
Synopsis:
Although she never asked for it, 27-year-old So Yeori possesses the extraordinary ability to communicate with ghosts. She has always considered it a burden rather than a gift and always passes spirits without a single glance. When she moves into a new house, Yeori resolves to ignore the resident ghost. However, he has a different idea.
Even when he was alive, Go Joon yearned for the comfort of living together with someone, and his untimely death three years ago only exacerbated his pain. He wants nothing more than to talk to someone, for Yeori to stay; and reluctantly, she agrees to live with him for a year. As two people who have always been alone, Yeori and Joon must now face the joys and hardships of the cohabitation between human and ghost.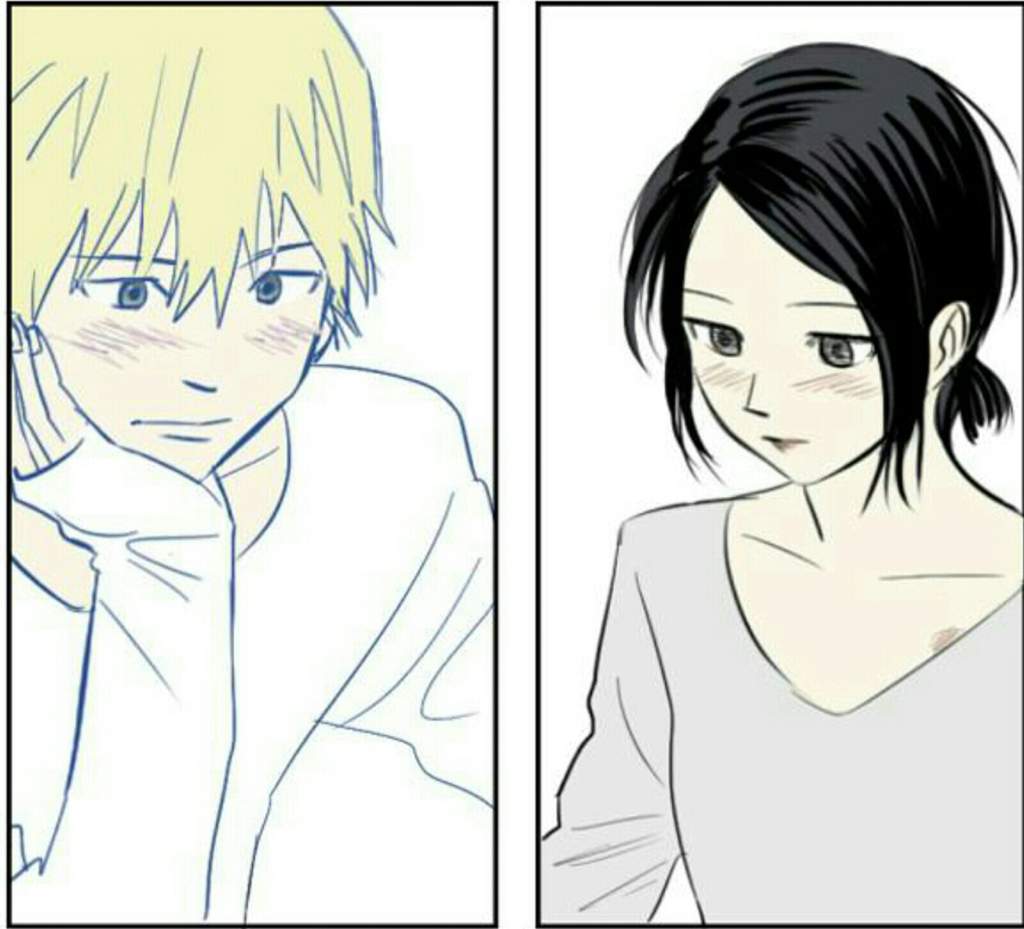 First of all , this manga is not for emotional people. I literally cried during last chapters but if you want a a great webtoon to read then this is the one. MY BOO is forbidden. Obviously, it's not a normal kind of relationship. A human and a ghost falling in love with each other. Upon reading this webtoon, I get frustrated most of the time. When you love someone, you also want to have and feel their affection. It's tragic that they cannot feel each other.
This is a very understated and beautiful art style. It may not be as flashy or blatantly amazing as some Webtoons, but it's also very subtle. The pale coloring matches the world, and there is so much detail in the backgrounds.
Even there are only two main character shown most of the chapters, the story revolves around them. The story progresses slowly unlike other romance webtoons but the unique story and it's beautiful story makes it wanna last longer.
My boo is a great webtoon and I'll definetely recommend it.
---
Sweet home
Synopsis:
After an unexpected family tragedy, a reclusive high school student is forced to leave his home — only to face something much scarier: a reality where monsters are trying to wipe out humanity. Now he must fight alongside a handful of reluctant heroes to try and save the world before it's too late.
For those of you who don't know, sweet home is a really popular manhwa that started releasing in 2017 and finished 2020. I wanted to read it for a long time. Although I'm no fan of horror this was an exception. There were some creepy and really horror filled moments but the manhwa was totally worth it. It is full of cliffhangers, It's one of those series that keep a high quality during the whole duration, and I dare to say that it gets even better towards the end.
The manhwa is actually about people who become if they give in to their desires and our hero HYUN is a half-monster who can tries his best to fight against his desires. This is a story where you TRULY feel all the characters are screwed and can die at any moment. Not even the protagonist is safe. The constant tension and plot twists leave you truly invested and before you know it, you'll have binge-read the entire thing in one night. The characters are all complex but realistic.
At first I thought this was like any other zombie apocalypse but this exceeded my expectations a lot. Even there were some creepy moments and I mean really really creepy. I read this manhwa at 2 AM in my house and I couldn't sleep at all.
This manhwa is perfect for horror lovers, they'll definetely love it. I'm also happy that sweet home is getting a Netflix Korean adaptation. I can't wait to see it. I also heard that BASTARD was a manhwa created by the same authors of SWEET HOME, so I've got myself a new manhwa to read.
---
Two absolutely fantastic manhwa which are unique in their own ways. I would defientely recommend both manhwas to you guys. If you've already read it, make sure to leave your thoughts on the manhwas on the comment section.
Thank you for reading.