I seriously had nothing to write about so I did a list about the Mangas I've read with the most chapters. I've read more than 11,000 chapters of manga so far, In that these 12 mangas bring about 4,731 chapters.
Out of the 12 mangas here 5 of them are about sports(Hajime no ippo is still going on). i can't believe I've read 12 mangas with more than 200 chapters and most of them were a delight.
---
Hajime no ippo – 1316 and continuing
Synopsis:
Makunouchi Ippo has been bullied his entire life. One day, in the midst of yet another bullying, Ippo is saved by Takamura Mamoru, who happens to be a boxer. Ippo faints from his injuries and is brought to the Kamogawa boxing gym to recover. As he regains consciousness, he is awed and amazed at his new surroundings in the gym, though lacks confidence to attempt anything.
Thinking that Ippo does not have what it takes, Takamura gives him a task deemed impossible and gives him a one week time limit. With a sudden desire to get stronger, for himself and his hard working mother, Ippo trains relentlessly to accomplish the task within the time limit. Thus Ippo's journey to the top of the boxing world begins.
---
Fairy tail – 545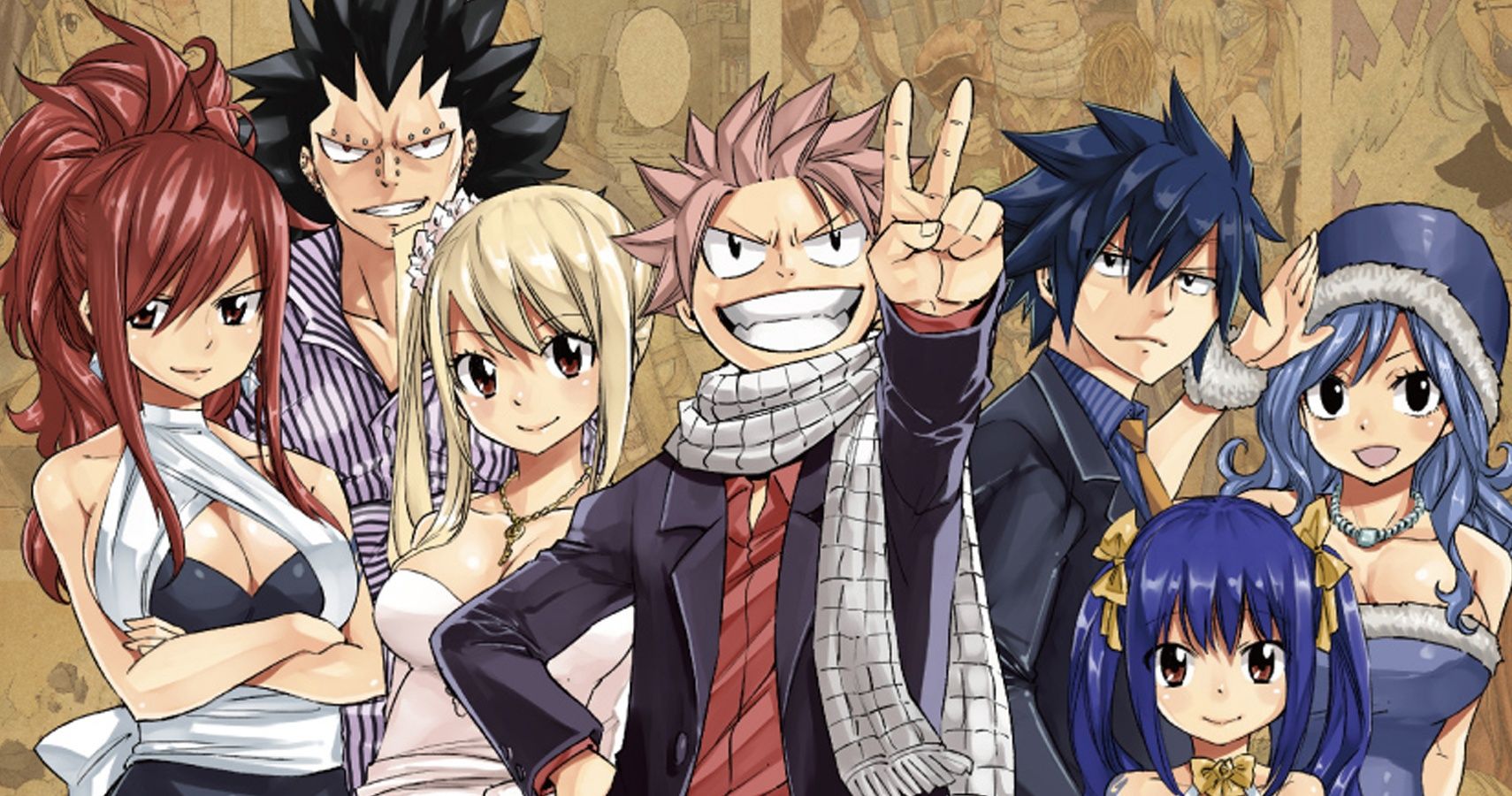 Synopsis
Set in an imaginary world, the Earth Land, there exists a Mage Guild called "Fairy Tail". Fairy Tail is stationed in the town Magnolia, residing in the Kingdom of Fiore, and is currently governed by Makarov, Guild's master.
Lucy Heartfilia, a 17-year old girl, wishes to become a full-fledged mage and join one of the most prestigious Mage Guilds in the world, Fairy Tail.
One day, out of pure coincidence, she meets Dragneel Natsu, a boy who is transportation-sick, but very cheerful in nature. However, the thing she does not know is that Natsu is the closest connection to Fairy Tail, as he is a Mage in Fairy Tail.
---
Arakawa under the bridge – 410
Synopsis:
Kou Ichinomiya, a young man born with a silver spoon in his mouth and raised with the mantra "never owe anyone" suddenly finds himself deeply indebted to a young homeless woman, Nino, who lives on the Arakawa river bank and claims to originally be from the planet Venus. When Nino rejects all of Kou's mundane offers of money or housing, Kou is at a loss for how to repay his debt, until Nino suddenly asks him to teach her about love. A daunting task, but the over-achieving Kou is determined to return Nino's favor. And so begins Kou's life under the bridge, along with a band of eccentric characters who have formed their own little community outside the boundaries of typical Tokyoite life…
---
Haikyuu!! – 402
Synopsis:
A chance event triggered Shouyou Hinata's love for volleyball. His club had no members, but somehow persevered and finally made it into its very first and final regular match of middle school, where it was steamrolled by Tobio Kageyama, a superstar player known as "King of the Court." Vowing revenge, Hinata applied to the Karasuno High School volleyball club…only to come face-to-face with his hated rival, Kageyama! A tale of hot-blooded youth and volleyball from the pen of Haruichi Furudate!!
---
Slam dunk – 276
Synopsis:
Hanamichi Sakuragi's got no game with girls–none at all! It doesn't help that he's known for throwing down at a moment's notice and always coming out on top. A hopeless bruiser, he's been rejected by 50 girls in a row! All that changes when he meets the girl of his dreams, Haruko, and she's actually not afraid of him! When she introduces him to the game of basketball, his life is changed forever…
---
Domestic girlfriend – 276
Synopsis:
High schooler Natsuo is hopelessly in love with his cheerful and popular teacher, Hina. However, one day at a mixer, he meets a moody girl by the name of Rui and ends up sleeping with her. Soon after, his father announces that he's getting remarried to a woman with two daughters of her own. And who shows up in tow, other than both Hina and Rui?! Natsuo's outrageous new life starts now!
---
Kuroko's basketball – 276
Synopsis:
When incoming first-year student Taiga Kagami joins the Seirin High basketball team, he meets Tetsuya Kuroko, a mysterious boy who's plain beyond words. But Kagami's in for the shock of his life when he learns that the practically invisible Kuroko was once a member of "the Miracle Generation"— the undefeated legendary team—and he wants Kagami's help taking down each of his old teammates!
---
A town where you live – 261
Synopsis:
Kirishima Haruto lives in a small town in Hiroshima and is just about to enter high school when Eba Yuzuki, a mysterious girl from Tokyo suddenly decided to go to high school in the countryside and despite his objections, she moves in to his home.
Haruto must now put up and take care of this clumsy freeloading city girl and at the same time, make sure his long time crush Kanzaki Nanami doesn't get the wrong idea!
---
Beelzebub – 250
Synopsis:
The story follows the "strongest juvenile delinquent", Oga Tatsumi, a first year in "Ishiyama High" the school for delinquents. One day while sleeping next to a river he sees a man floating down it, he pulls him to shore and the man splits in half revealing a baby boy. This boy is the son of the demon king and he has been chosen as the one to raise it with the baby's demon maid Hilda. The story follows his life with the child and at the delinquent school.
---
Yamada kun and the seven witches – 246
Synopsis:
Class troublemaker Ryu Yamada is already having a bad day when he stumbles down a staircase along with star student Urara Shiraishi. When he wakes up, he realizes they have switched bodies—and that Ryu has the power to trade places with anyone just by kissing them! After figuring out the workings behind this new and amazing ability, Ryu and Urara take full advantage of the situation to improve their lives. But with such an oddly amazing power, just how long will Ryu and Urara be able to keep their secret under wraps?
---
Nisekoi – 240
Synopsis:
Though Raku's a normal high schooler, his family heads the notorious yakuza gang the Shuei-Gumi faction! And he's dragged into family affairs when he's forced into a relationship with Chitoge, the daughter of a rival gang's boss!
Despite their constant spats, the two somehow fool everyone with their false relationship. Raku then discovers that Chitoge has a mysterious key from her past, which she can't remember… Plus, two other girls appear with keys as well—Kosaki Onodera and Marika Tachibana!
Caught in the midst of this love maelstrom, even more complications arise for Raku when his class decides on Romeo and Juliet as the class's play for the school festival. Can the two false lovebirds pull off the impossible and make the play a success?
---
Rookies – 233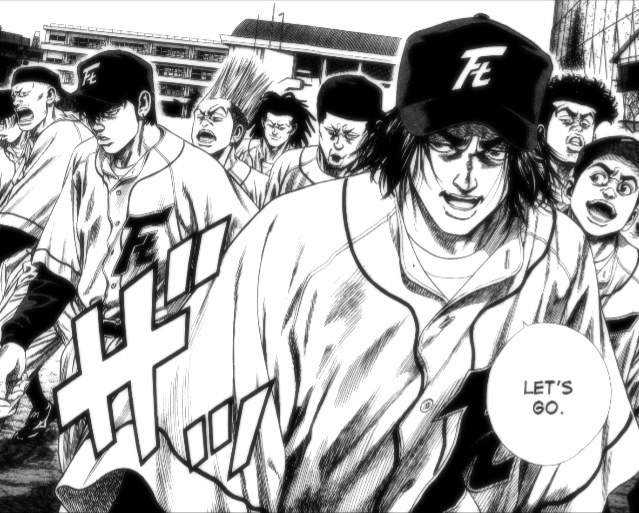 Synopsis:
Koichi Kawato is the new Japanese teacher at the ill-famed Futakotamagawa high school, whose baseball club is composed of thugs and bullies who have been suspended for a year from all school competitions, for causing a brawl during an official match. The newly appointed teacher finds that the club members left are only interested in women, smoking and doing nothing until, under Kawato's guidance, they discover a new dream called the Koshien. However, the road to the Koshien is far from easy as many obstacles await them.
---
I still have no idea why I read 276 chapters of "Domestic girlfriend". It was really terrible, it had no plot but still the author managed to keep the readers till the end. I was not a big fan "A town where you live too" mostly because the story was NTR.
If you havent heard of it yet i'll give you a quick explanation. NTR stands for netorare ( whatever that means ). Basically it involves emotional hurting the significant other and with this also the audience.
Lets say boy A and girl A got a lot of screen time and are now finally together. NTR would most likely involve girl/boy B to make girl/boy A slowly fall for him/her though being in a relationship. Betrayal, death or other turns get the audience emotionally hurt in some way. Well either I hate "A town where you live".
I think that's all I have for today.
Thank you for reading.