End of another month. Here comes August, even with all the work I got piled up I managed to read a fair amount of manga and was even able to watch an anime. You can read the review here – Hyouka . If you have been following my posts you'll see that for the past couple of days I have posted a few reviews, I did read a lot of good mangas this month.
Let's get into it.
---
HELL'S PARADISE: JIGOKURAKU
Synopsis: Gabimaru the Hollow is one of the most vicious assassins ever to come out of the ninja village of Iwagakure. He's ruthlessly efficient, but a betrayal results in him being handed a death sentence. He has only one hope—in order to earn his freedom, he must travel to a long-hidden island and recover an elixir that will make the shogun immortal. Failure is not an option. On this island, heaven and hell are just a hair's breadth away.
The third and final manga of the dark shonen trio alongside "Chainsaw man" and "Jujutsu Kaisen". Comparing with the other two Hells's paradise popularity is not much but certainly lives upto it's title as the underdog of the three. The author Yuuji Kaku is an former assistant to Tatsuki Fujimoto(Author of Chainsaw man), so gradually I had some expectations for it. And if I'm being honest here, it didn't live up to it.
---
I'm in love and it's the end of the world
Synopsis: Mahiru Yanase's twin sister, Mayo, has it all—she's cute, sweet, and popular. Mahiru, on the other hand … has always been the other Yanase. All her life, Mahiru's reminded herself that every time something good happens to her, something bad comes along to balance it out. She never gets her hopes up … but no sooner does she arrive for her first day of high school than Aoi Satomi, her handsome, mysterious classmate, takes an interest in her—and by the end of the day, he's already asked her out! If things don't balance out for Mahiru soon, the world's going to come to an end!
I'll be honest, a total disappointment. The story was good but the way it was executed wasn't the best, I know it's a Shoujo but I didn't like it all. Maybe it may interest others but for me it was not what I was looking for.
---
Angel Densetsu
Synopsis:
Seiichirou Kitano is a naive and kind boy with the heart of an angel and the face of a devil. Upon entering his new school he is presumed to be a villainous heroin addict, and unwittingly becomes the leader of the schools thugs, all thanks to his frightening face. His new "friends" have great expectations of him, seeing him as a frightful demon. Kitano himself on the other hand, loathes violence and is blissfully unaware of the situation he is in…
Angel densetsu. A manga by Norihiro Yagi who is also the creator of Claymore. One of the best comedy mangas I've read along with Kyou kara ore wa and Arakawa under the bridge. "Never judge a book by it's cover", that's the meaning the manga sends to it's reader. This is a story about a high school student Kitano Seiichirou with a demonic face but a angelic heart and the misfit adventures with his friends.
---
Nigate na no wa Amai Momo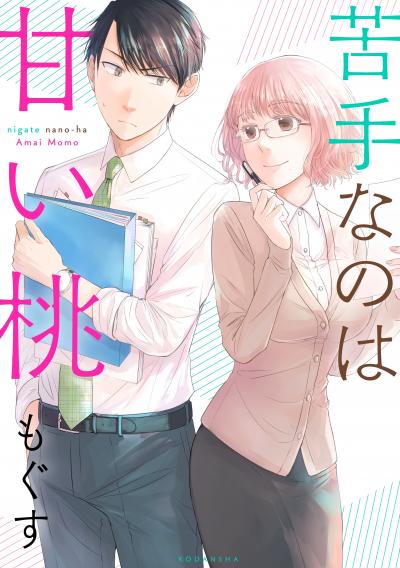 Synopsis:
"I've been working at the company for three months now, and it's kind of lacklustre…all because of her…"
Assistant Manager Momozono has a big chest, a baby face, and a gentle voice. Moreover, she's capable at her job. Everyone around says she's the female boss they all want, but newbie Onishi just can't bring himself to like her… This is an office love comedy by the same author as "Koi to Yobu ni wa Kimochi Warui".
The back and forth of these two, such a fun manga to read. The good part about this oneshot was that it was unique with no visible cliches in place and if this ever gets a serialization then it would be a blast.
---
Love log
Synopsis: Okubo Souka hates girls but what happens when he's paired up with the quiet Magura for class duty?
One of the cutest oneshots I've read.
---
Hisoka returns
Synopsis: Teacher Hisoka wakes up to find that he has died and is now inhabiting the body of the student he tried to save. This is due to the interference of a monk, who informs him that he cannot tell anyone who he really is or the bond between him and his "new" body will break and he will die for real. Hisoka chooses to retain his memories despite the monk's warning that it will cause trouble….No doubt it will, since Hisoka is the type who cannot pass someone in trouble without trying to help!
So how was it? To me it became one of my most favorites. Loved it from start to end, although it did change the track through half of the story but it was still good. Unlike most shounens I've come across, theres no ecchi and the male lead isnt wimpy, its just a realistic story with an original plot. love it! Plus this the first time since a long time that I have cried that the manga ended.
---
Anyways that's all I have for this month. August is going to be a good month, I have got a lot of good recommendations from you guys, so I'm looking forward to the next Manga discovery.
Thank for reading.