Who doesn't like mangas.
---
Mangas you think deserved an anime adaptation
We all have that manga we cherish.Whether it's the amazing artwork, captivating storyline, or interesting characters, something about that manga draws us in.
Mangas create the best anime. Some mangas are so good they deserved to have an anime adaptation. Here are some of the mangas I think deserved a anime adaptation.
5. Rookies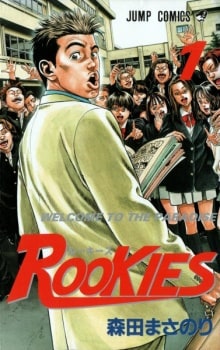 The story is about Professor Kawato who is the new Japanese teacher in the ill-famed Futagotamaga high shool, whose baseball club is composed by thugs and bullies who have been suspended for a year from all school competitions for causing a brawl during an official match. Now that the suspension is over, the only club's members left are interested only in women, smoking and doing nothing until, under professor Kawato guidance, they discover a new dream called Koushien.
This is one of the best sports manga I'll ever read. The artwork is amazing and the plot of the story is just great. I never read a manga like this before so I was a bit overwhelmed when reading this manga. Although the manga got a TV show in 2008 I think this manga definitely deserved an anime.
4. Goodnight punpun
Punpun Onodera is a normal 11-year-old boy living in Japan. Hopelessly idealistic and romantic, Punpun begins to see his life take a subtle—though nonetheless startling—turn to the adult when he meets the new girl in his class, Aiko Tanaka. It is then that the quiet boy learns just how fickle maintaining a relationship can be, and the surmounting difficulties of transitioning from a naïve boyhood to a convoluted adulthood. When his father assaults his mother one night, Punpun realizes another thing: those whom he looked up to were not as impressive as he once thought.
Not necessarily something that Punpun needs an adaptation, since it's perfectly good in manga format, and I think Asano just does a good job with it. But I'd be very interested to see how the anime creators would tackle this one. This manga has one of the best artworks I've ever seen in a manga.
3. Perfect world
Kawana Tsugumi works for an interior design company. She goes to a drinking party at a client's architectural office and happens to meet her first love. He's more handsome than ever and it isn't until he's leaving that she realizes something has changed: Ayukawa is in a wheelchair.
This one of the mangas I accidentally discovered but totally loved it. I would say the art is about okay but story was great even though there were some unwanted twists. I mean falling in love with a disabled man, this plot makes this story really unique.
2. Suki x suki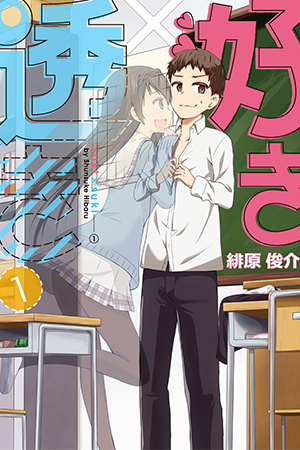 Touka Aizuki is girl who can turn invisible and no one can see her except for one person, Ryoutarou Mimori. Even though she is physically invisible, her love is completely visible!
I'll get to the point, this is one of the most funniest mangas I've ever read. I've got to say this manga is totally different from your usual rom-coms. This manga by Hibaru Shinsuke would be a hit if it would've had an anime adaptation. The artwork is really good and even though the story is short it's honestly amazing.
1. High school debut
While in middle school, Haruna Nagashima threw herself into playing softball while secretly dreaming of finding romance, but without any luck. High school has just started for her, and she now has the perfect chance to fall in love with a potential boyfriend. But there's one problem—she has no idea where to begin!
On her first day of school, she accidentally bumps into You Komiyama, the most popular boy in the year. With his stunning looks, Haruna is positive he can help. The handsome boy reluctantly agrees to coach her about love under one condition: she must not fall in love with him. Under You's guidance, will Haruna be able to kick off her high school debut and find herself a boyfriend?
So I think you all remember the rom-com "My love story". Turns out that It's from the same author. Yes My love story and high school debut were written and drawn by Kazune Kawahara. Personally I love high school debut more than My love story.
I think that High school debut deserved an anime because not only the story was really good but the art was also spectacular.
Keep in mind that anime adaptations aren't always better. In fact, you might be disappointed if the anime creators leave out certain scenes or give your favorite character a weird voice. Sometimes, it's better just to leave a manga in print.
Anyway why I'm writing this list is to just see how the anime studio converts all these amazing mangas into world-loving anime.
Thank you for reading, I wouldn't mind to know your opinion.
---
Shonen Jump's forgotten
When it comes to Shonen Jump, we all know that it is one of the most renowned manga publishing companies. From One Piece to Demon Slayer, Shonen Jump has created some of the most unforgettable series that will be remembered forever but for every great series there are also few forgotten ones.
There are some series that build significant hype and large fanbases as they start serializing, only to vanish from conversations later, slipping from our otaku memory without warning. There are a lot of lesser-known manga from Shonen Jump that have essentially been forgotten, including some that were quite popular around the time of their initial release.
This post will be mainly covering about the releasing series as they suit the concept of forgotten more than finished series who's popularity is bound to diminish. But I will cover the finished series in a different upcoming post, stay tuned.
D-gray man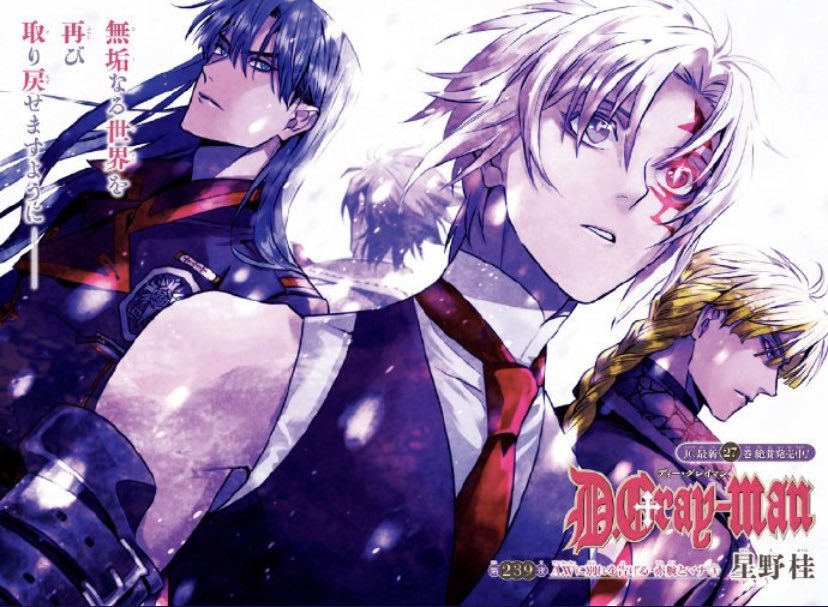 Synopsis: A born exorcist, Walker's primary anti-akuma weapon is the cross that's embossed on his red, disfigured left hand, which contains Innocence. But not only does Walker destroy akuma, he sees the akuma hiding inside a person's soul! Together with his fellow exorcists fighting under the command of the Black Order, Walker leads the battle against the Millennium Earl, the evil being out to destroy mankind.
Started serializing almost a decade ago, D gray man was quickly one of Shonen Jump's most popular series with a new theme and unique story. The manga still remains as a respected Shonen series so why is it losing popularity?
There are mainly two reasons for it, one is due to the Mangaka Katsura Hoshino health issues and the other one is that the anime last came at least 5 years ago. We all know that anime reach a more wider audience than manga and it also appeals to most people who don't like reading. So without any anime, it has disappeared from discussion and faded away to the newer anime with back to back releases.
D gray man was one of the first mangas I've read, I wish for Katsura Hoshino's to get well soon and that the series will get more recognition in the future.
Blue exorcist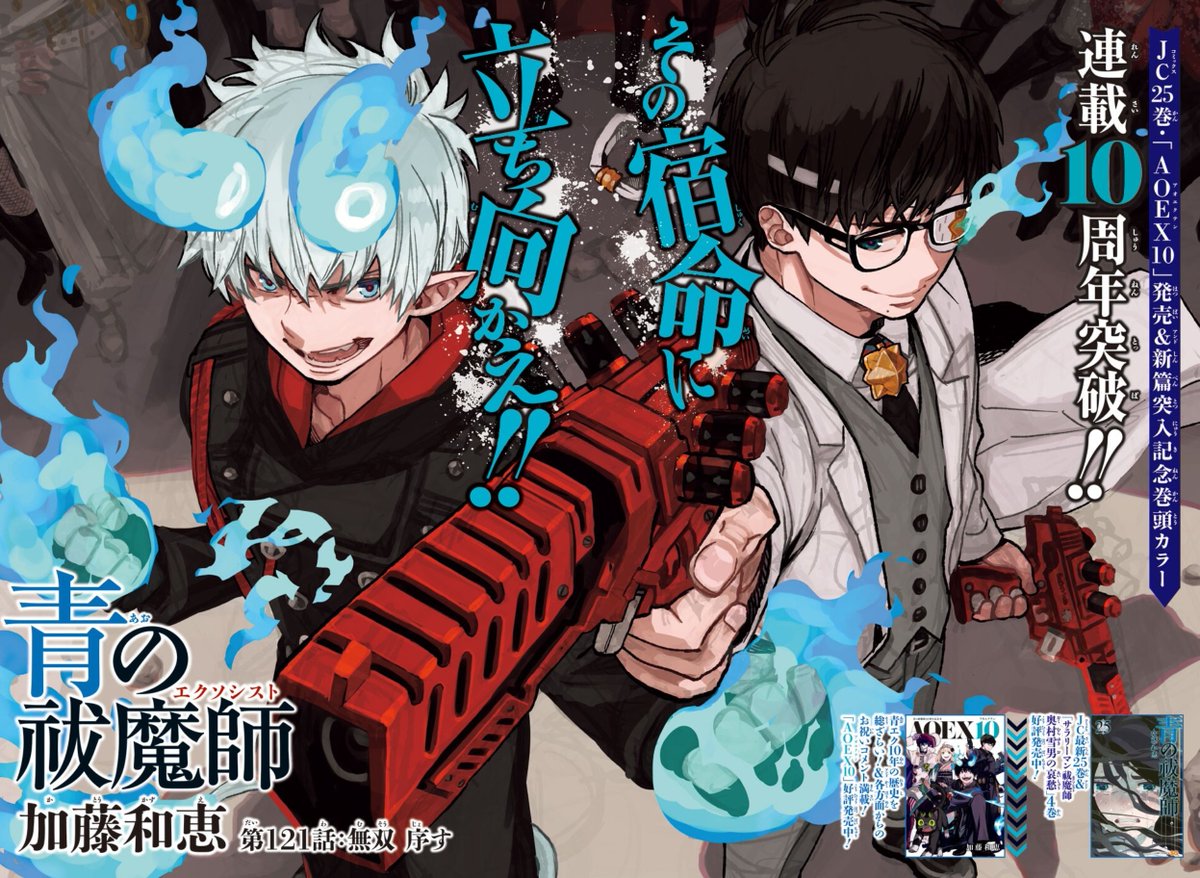 Synopsis: Raised by Father Fujimoto, a famous exorcist, Rin Okumura never knew his real father. One day a fateful argument with Father Fujimoto forces Rin to face a terrible truth—the blood of the demon lord Satan runs in Rin's veins! Rin swears to defeat Satan, but doing that means entering the mysterious True Cross Academy and becoming an exorcist himself. Can Rin fight demons and keep his infernal bloodline a secret? It won't be easy, especially when drawing his father's sword releases the demonic power within him!
Blue exorcist started serializing in 2009 and was exciting new Shonen series before exploding into popularity with it's anime adaptation. Blue Exorcist's first season was an overwhelming success with rising massive popularity that soon spawned a feature film and encouraged increased printings of the manga.
The problem, the first season of the anime was an amazing anime that caught up to the manga too soon, resulting in a botched ending that lacked the nuance of the non-filler episodes. And also one more reason is the massive 5 year gap between the first and second seasons. The author Kazue Katou is also in hiatus until April 2022 leaving the fans hanging for more.
Twin star exorcists
Synopsis: Rokuro dreams of becoming anything but an exorcist! Then mysterious Benio turns up. The pair are dubbed the "Twin Star Exorcists" and learn they are fated to marry… Can Rokuro escape both fates? When Rokuro's best friend Ryogo goes missing, Rokuro is forced to ask Benio for help to enter Magano, the realm of the evil Kegare, to rescue him!
Twin star exorcists is a highly underrated manga that is a must read for any Shonen fan. It portrays the author's intention very well and some amazing art which makes the manga a must read. The manga never burst into popularity because of it's failed anime adaptation. The anime adaptation was filled with unnecessary fillers and bad canon-episodes. The openings were great though.
The manga is filled with banger canon-arcs, maybe a reboot will do the manga justice and spread the popularity of Twin star exorcists.
World trigger
Synopsis: A gate to another dimension has burst open, and from it emerge gigantic invincible creatures that threaten all of humanity. Earth's only defense is a mysterious group of warriors who have co-opted the alien technology in order to fight back!
World trigger is definitely one of the most underrated series in Shonen Jump. The anime is a very mediocre series, at least for the very first few episodes. It gets a little better after that, but there are many better Shonen series out there other than it. The 3rd season is releasing this October which has the potential to be one of the top anime this fall.
Black lagoon
Synopsis: The story follows a team of mercenaries known as Lagoon Company, who smuggle goods in and around the seas of Southeast Asia. Their base of operations is located in the fictional city of Roanapur in Thailand, and they transport goods in the PT boat Black Lagoon. Lagoon Company does business with various clients, but has a particularly friendly relationship with the Russian crime syndicate Hotel Moscow. The team takes on a variety of missions – which may involve violent firefights, hand-to-hand combat, and nautical battles – in various Southeast Asian locations.
Black lagoon is one of the most popular animes from 2000's which also became one of MADHOUSE's famous anime. Black lagoon Action/criminal underworld Seinen manga created by Rei Hiroe which started serializing in 2002 and is currently going on.
Now as you may have already guessed, Black lagoon's anime last came out more than a decade ago and the manga also haven't really progressed that far because of the author's current battle with depression. With only two volumes published in the last two decades leaving the fans losing their beloved characters back in action. Either way I'm happy the author is prioritizing his health first, even if the manga has a rushed ending or never ends, it will always be one of the iconic stories told.
Seraph of the end: Vampire Reign
Synopsis: After trumpets of the apocalypse proclaim the fall of humanity, vampires arise from the shadows to rule the earth. Yuichiro wants just one thing—to get revenge by killing each and every vampire.
Yuichiro's dream is near-impossible, given that vampires are seven times stronger than humans, and the only way to kill them is by mastering Cursed Gear, advanced demon-possessed weaponry. Not to mention that humanity's most elite Vampire Extermination Unit, the Moon Demon Company, wants nothing to do with Yuichiro unless he can prove he's willing to work in a team—which is the last thing he wants!
Seraph of the end: Vampire Reign is a Japanese dark fantasy manga series written by Takaya Kagami and illustrated by Yamato Yamamoto with storyboards by Daisuke Furuya. This is the kind of anime that gets overshadowed by more popular anime, especially ones that are made by the same studio (Attack On Titan in this case). It's one of the animes which elements are equally balanced.
The story begun as a manga then anime adaption. Both the manga and anime were pretty successful, but its storyline is still thought to be incredibly underrated by many fans. The reason why nobody talks about it is that there's no news of a season 3 even though it is really overdue with the season 2 released in 2015. You are definitely getting your money's worth with this volume and it has a high re-read value.
Well that's all I have for this post. Now even these are some series that may have been forgotten but there also some series that will always be remembered. One such example is Hunter X Hunter, even though Yoshihiro Togashi has been in a hiatus for a long time, HxH still remains one of the iconic anime and manga of all the time, this is mainly because of the amazing reboot by MADHOUSE in 2011.
Even though these series are less talked about doesn't mean it isn't respected. True fans all support the Authors through their hiatuses and their reasons instead of accusing them of being lazy. I thank all the authors who gave us such amazing series which will always be remembered.
---
The patience to finishing a manga
Have you ever thought yourself, can I just drop this, I can no longer handle all this drama. Well I have, plenty of times. Even now I'm experiencing it with this manga.
The manga is called Watari-kun's ****** Is about to Collapse. And after reading more than 60 chapters of this manga I wish Watari-kun's ****** would really collapse. I'm not usually like this but I'll be honest this manga is even worse than domestic girlfriend. At least domestic girlfriend ended but I honestly don't think this would ever end, the author is probably just gonna drag this till he can't no more.
At this point I will even take the worst ending possible, I would even take a School days ending and I won't complain. It's been going on for 6 years, in the latest chapter(ch 60) the author could've ended it and I would've been happy but no he decided to drag it out with his dumb MC. There's not been an update since may and I'm literally about to explode, such a cliffhanger. I just hope that this series end quick and end the struggle for everyone.
Okay, now coming back to the post, I totally hate the manga, but flow of the story is make me want more. I felt the same for Domestic girlfriend, I started reading it out of sheer curiousness and well, It was something, not what I hoped for but definitely something. Anyway, when I started reading Domestic girlfriend, it was still in serialization so I had to wait for chapters. It was actually going well at some point and just out of nowhere the author drops a bombshell, at that point I was at my peak, I just wanted to drop the manga and say "no more" but being the person I am, I said to myself one more chapter and we'll see where this is going. Of course that was one reason why I didn't want to drop it but the other one was because I felt guilty about dropping it.
It started fairly interesting, it was a different type of story and I was really invested in it but at the end it's just a huge dumpster fire.
I'm the kinda person who has to finish what he started or else it just gives me nightmares. So with no other choice I continued Domestic girlfriend and to my surprise it actually ended soon than I though it would. While reading it I felt all the type of emotions you can feel, from angry to emotional, the manga was bad but after I finished reading I felt a sense of accomplishment. I never gave up till the last and now I can finally see the end. I felt so happy at the end, I finally finished a headache of a manga, now I can finally be free or not, because just a few months after finishing it I get stuck with Watari-kun's ****** Is about to Collapse. Oh, nobody can beat my curiousness not even Chitanda.
I guess that's why I never dropped any manga, I read through all of them school days, Kimi no iru machi, Domestic girlfriend but I think Watari-kun's ****** Is about to Collapse might just give me a run for my money. But I think reading completed mangas is the best way to get through a manga even if you hate it. Because when you know that its completed you know that there's an end, you can read 1 chapter at a time to reach the end or else that's how I do it. One more way how I get through it is by having a goal at the end of each chapter I finish.
This is one more reason why I don't pause reading because there's a lot of chance that I won't probably get back to it and even if I did I don't think I would have the patience to complete it. I would probably just rush through it. I remember that I started reading Kawaii Hito last year around July, it was really good and I liked it a lot but since it was still updating and I was still have my exams so I paused reading at that's it. I recently got back to it because I saw that it was finished updating and that was it I just rushed through the remaining chapters. I don't why, maybe because I lost the flow of the story. I should get back to my Paused mangas soon.
The reason why I couldn't get into it again maybe because now I only thought of completing the manga instead of trying to enjoy it. That's one reason why I read mostly completed or fully scanlated mangas because once I lose the flow of it I just lose the whole interest in it.
I can't say the same about anime because I haven't watched a lot recently but if it was bad I would just fast forward to the good scenes(If there is any). This post has basically just been me ranting about everything and I just I went way out of topic. I really wanted to write more about how much I hate the male MC's of Watari-kun's ****** Is about to Collapse and Domestic girlfriend but I thought I'd save it for a different post.
---
Hisoka returns
---
Rating: 10/10
Synopsis: Teacher Hisoka wakes up to find that he has died and is now inhabiting the body of the student he tried to save. This is due to the interference of a monk, who informs him that he cannot tell anyone who he really is or the bond between him and his "new" body will break and he will die for real. Hisoka chooses to retain his memories despite the monk's warning that it will cause trouble….No doubt it will, since Hisoka is the type who cannot pass someone in trouble without trying to help!
---
Where do I even start? Reading this made me remember the first time I read a manga, the enjoyment at every scene, every time I got flustered by just reading, every time I jumped out of my bed. I remembered all of that. It's been more than 2 years since I started reading manga and trust me I've read a lot of them but this was the first time since suzuka that I loved the manga before I even read it. I felt unusually drawn to it.
So how was it? To me it became one of my most favorites. Loved it from start to end, although it did change the track through half of the story but it was still good. Unlike most shounens I've come across, theres no ecchi and the male lead isnt wimpy, its just a realistic story with an original plot. love it! Plus this the first time since a long time that I have cried that the manga ended.
Story & Art
A touching storyline (don't let the light moments of humor sprinkled throughout fool you) saved this book and kept me reading, from the charactes to the artwork everyhting was amazing. Story wise, it was pretty fast paced and yet it also took time to show how slow burn romance (not ecchi for sure) with comedy and supernatural went. Not too long, nor too short, perfectly well balanced. At some point, I worried about how Hisoka had detective cases which would have dragged this simple story far more unnecessarily but Yagami apparently knew it well enough to keep it simple and straightforward with very few related ones to highlight about, so I had a major relief learning about it.
The author "Ken Yagami" revealed that at the time, "Yu Yu Hakusho" had become a huge success in Jump(Hisoka returns is a shonen jump manga). Yu Yu hakusho started out as a drama about human relationships but then suddenly changed into a battle manga and became a huge hit. That's why his editor wanted him to do the same thing since the popularity ratings were dropping. But in the end it was cancelled and he was actually happy to hear that because he felt so cornered at that time and just wanted to end Hisoka returns with a good ending.
Around halfway the plot started to turn and did a 180 but trust me once you get to the end you'll feel it's worth it that's because no matter how much difficulties the author faced, he had a clear idea of Hisoka and Rito so be it no matter what happens he knew that he could pull it off. And the art, this is the exact kind of art that I like. With their 1990's hairdos and the cute fashion outfits. The art is world class, it's not detailed, it's not aesthetically pleasing but I love it.
Characters
To me in a manga, the story and the art are the least of my worries, the only thing I look for in a manga is good chracters. Even with bad art and bad story, a good character with good development can shape a good story. That's why I prefer a characte driven story rather than a plot driven story. I don't really wanna explain the characters again since it's already shown in the slideshow above but I do wanna say I these are some of the best characters.
---
Chapter 1 summary – spoilers!!!!!
Hashijima Hisoka is a biology teacher who always helps other's in need and his colleague(and former student) is Hoshizaki Rito who is also known as "Textbook girl" because of her personality. Ever since Rito and Hisoka met, Rito fell in love with him and that night Hisoka proposes to Rito with a ammonite shell(she likes them) but just as things were being happy, they hear a shriek of help. Hisoka without any second thoughts jumps in to save the person.
Hisoka wakes up in the body of another person. When he wakes up he sees a monk beside him who tells him that "He's dead". Well technically he's dead but he's not, his souls has been switched with the person he was trying to save because that person was already dead by the time he got to him and his soul was gone. But the soul switching has one problem, he can't reveal his true identity to anyone or else he would die.
Later Hisoka finds out that the body he is in belongs to Narukami Gengorou who is a student in another school. Still in love with Rito he vows to win her back bycarrying the memories of Hisoka and by living the life of Narukami Gengorou. And so begins the journey of Hisoka to win Rito's love back!
---
Since it's a spoiler free review(except for the ch1 summary), I didn't want to discuss the ending but I'll say it, it was satisfying. I'm crying again from remembering the end, I wish there was more. upon learning the fact that this has yet have anime version all this so sad, now that I started watching anime again I hope that maybe in the future there'd be a miracle and it would get an anime adaptation.
All in all this is a manga I wouldn't forget for a lifetime. No stupid misunderstandings, no dumb MCs, no predictable plot, a very unique manga which is seriously underrated. I really wish this would get more attention in the future. Here's a few coloured pages of the manga.
A Wonderful read
---
Too wholesome to handle
Just a post about the most wholesome mangas I read so far.
Arasa Dakedo, Hatsukoi desu.
"Inoue-san, you're my first boyfriend…", says Yamamoto, 28 years old. "I don't have a lot of experience either, but we'll work through it together", says Inoue, 32 years old. In reality, Inoue's never been with a girl either, but he couldn't tell Yamamoto that. A fluffy love-comedy about the adventures of this innocent and pure couple.
Koi to Utatane
Hana who loves to sleep and has a hobby of sleep research and Takashi Kiichi 's room share life. There are lots of sleeping laws that can be used right away in such two lives…… Let's sleep together with the sleeping way. The two of us living together begins!
Kamibukuro-kun wa Koishiteru
A stalker? A pervert? No, no. I'm just a college boy who is single-mindedly in love with someone. It's just…I live my life wearing a paper bag on my head, which makes people look at me strangely on campus.
Even though he's extremely timid, he abruptly confessed his love and is pushing forward! The girl he confessed to, Umi-chan, took it by surprise and soon an unexpected turn of events is about to happen!
Tsun-Ama na Kareshi
Acting cold while pampering you, that's a tsun-sweet boyfriend.
My dishonest boyfriend always teases me a little, then spoils me a lot. Living with such a boyfriend, my life is full of surprises but overflowing with happiness…!
Zense Coupling
Even if my age and position have changed, my feelings for you will never change! A romantic comedy featuring four couples who've been reincarnated.
Okite kudasai, Kusakabe-san
This is a story about a girl, Kusakabe-san, who wants nothing more but to sleep in on her holidays, and her boyfriend, Saneomi-san, who wants nothing more but to get her outside. His attempts to use everything at his disposal to coerce her out of bed are met with her attempts to stop him at all costs. A love comedy about the weekends that these two spend together.
Horimiya
At school, Kyouko Hori is known for being smart, attractive, and popular. On the other hand, her classmate, the boring, gloomy Izumi Miyamura tends to get painted as a "loser fanboy." But when a liberally pierced and tattooed (not to mention downright gorgeous) Miyamura appears unexpectedly on the doorstep of secretly plain-Jane homebody Hori, these two similarly dissimilar teenagers discover that there are multiple sides to every story…and person!
I'm too sad that it ended but it's so good. I wish it would've went on forever but all good things come to an end. The wholesomeness(is this a word) in this manga is just too much.
---