---
I know I've changed this menu a lot of times but I promise this will be the last one. Unfortunately I'm bad at keeping my promises. I'll write new anime reviews after finishing it hopefully.
If you want to see my full anime list then check out my Anilist profile.
---
Review of rainbow days!
Rainbow days also known as nijiiro Days follows the daily lives of four high school boys: the hopeless romantic Natsuki Hashiba, the sadist Keiichi Katakura, the playboy Tomoya Matsunaga, and the smart otaku Tsuyoshi Naoe. Even while constantly struggling in their studies, they spend their days goofing around and having romantic misadventures.
When Natsuki's girlfriend unceremoniously dumps him on Christmas Eve, he breaks down in tears in the middle of the street and is offered tissues by a girl in a Santa Claus suit. He instantly falls in love with this girl, Anna Kobayakawa, who fortunately attends the same school as him. Natsuki's pursuit of Anna should have been simple and uneventful; however, much to his dismay, his nosy friends constantly meddle in his relationship, as they strive to succeed in their own endeavors of love. Not only Natuski but his friends also find the true meaning of love during this journey. All the four love stories are unique on their own.
I love this manga so much, it is just so relaxing and nothing too serious happens and since this manga is about school life it makes it relatable. I feel like enjoying with my friends whenever I start reading.
Nijiiro days is a completely ordinary manga. But the amazing chemistry among characters and great art style makes this manga absolutely perfect for you to read. This is actually one of the only rom-coms that's actually funny. The only sad part is it ended too soon .
This has to be one of the best mangas I've ever read.
---
My top 10 favorite Haikyuu!! players
Actually in the past month I have become a die-hard fan of haikyuu!!. If you haven't read my reviews then here are they Haikyuu!!. Watching haikyuu raelly puts me at ease. All the characters are refreshing and funny to watch, especially the expressions. So I thought why don't I make a favorite list. I couldn't find any useful information about the players in Wiki so I checked out the Fandom.
So here it is, My top 10 favorite Haikyuu!! players.
1. Tetsurō Kuroo
"We're like the blood in our veins. We must flow without stopping. Keep the oxygen moving and your mind working"
Tetsurō Kuroo is a third-year student from Nekoma High. He is the Boys' Volleyball Club's captain and a middle blocker, known as the "Scheming Captain". I seriously don't know why I like him, I think that's because he's a cool blocker or maybe it's because I like blocking.
2. Kei Tsukishima
"Uselessly hot-blooded people irritate me"
Kei Tsukishima is a first year at Karasuno High School playing as a middle blocker on the volleyball team. Personally I think he is the coolest character in the team, his blocks are amazing especially the one which he used to block Ushijima.
3. Wakatoshi Ushijima
"No matter how capable you lot may be, you'll see that we never weaken"
Wakatoshi Ushijima was a third-year at Shiratorizawa Academy and the captain and ace of the school's boys' volleyball team. He was also the number one ace in the Miyagi Prefecture and one of the country's top three aces, along with Sakusa and Kiryū. I mean have you seen his spikes, if you saw the 3rd season you'll know what I'm talking about.
4. Yū Nishinoya
"Alright! There's nothing to be scared of! You guys just keep looking straight ahead. I'll guard your backs with my life if I have to!"
Yū Nishinoya is a second-year student at Karasuno High school. He served as the libero for the school's volleyball team and was referred to by his teammates as "Karasuno's Guardian Deity" for his remarkable skill. ROLLING THUNDER!!!
5. Yūji Terushima
"We're gonna play more than anyone else here!"
Yūji Terushima was a second year student in Johzenji High and the captain of the boys' volleyball team. He reminds of some anime character I know, I don't know who but, maybe goku.
6. Kōtarō Bokuto
"It's a matter of whether 'that moment' exists for you or not…If you experience that moment, it'll really get you hooked on volleyball"
Kōtarō Bokuto was a third-year student at Fukurōdani Academy and the volleyball team's wing spiker, ace, and captain. He was acknowledged as one of the top five aces in the country, barely missing the top three. HEY, HEY, HEY.
7. Shōyō Hinata
"I may be small, but I can jump!"
Shōyō Hinata is the main protagonist of the Haikyū!! series by Haruichi Furudate. Hinata was motivated to begin playing volleyball when he witnessed a Karasuno High volleyball player nicknamed the Little Giant scoring points against opponents far bigger than him. After losing his first and only official volleyball match in middle school against Tobio Kageyama, the "King of the Court", Hinata enrolled at Karasuno High, only to find that Kageyama had also chosen to come to Karasuno. For the majority of the series, Hinata was a first-year student at Karasuno and one of the volleyball team's middle blockers. Quick attack time.
8. Takanobu Aone
"Those who are tall and strong aren't the only opponents who are difficult to block"
Takanobu Aone is a second year at Date Tech High, playing as a middle blocker and was the main pillar of Date Tech's defense, famously known as the "Iron Wall". His eyes move like a snake I don't know why.
9. Tōru Oikawa
"If you're going to hit it, hit it until it breaks"
Tōru Oikawa, also known as Tohru Oikawa in the English translation, wass a third-year student at Aobajohsai High, serving as the captain and ace setter for the school's volleyball team.
10. Daichi Sawamura
"We'll never win if we don't believe we can"
Daichi Sawamura is a third-year at Karasuno High School and the captain and a wing spiker in the boys' volleyball club. Go, go Diachi.
To tell the truth I don't like kageyama that much. I mean he is cool and I do like them but just not that much
And this concludes my favorite characters in haikyuu!!
Tell me in the comments what your favorite character is.
---
Are anime scores something you care about ?
Whether it be the score of weighted scores, or the scores of another user, or even your own scores.
When I think about it, since different people use a different system of ratings, scores become somewhat weird to use as a base to "should I watch this or not".
Seeing average scores before watching something might make people biased or judge a show without even seeing it yet so I think they aren't to be taken so seriously.
So anime scores for me feel pointless since very different ideas are being merged to present a majority idea instead of an absolute idea.
Some people care about their own scores because then they can see how their watching/reading habits evolve and others get more value out of people actually discussing what someone thought about a series(its strong and weak points).
I feel that most people rate based on enjoyment. Ultimately, the average score doesn't really matter if you like something, but it is a good guide of what you can expect.
There is no perfect show that everybody likes. Every person have their own personalities, ideas, perspectives, experiences, and opinions. So a score defines a individual's different opinion in that particular anime and helps us understand that particular user's interests.
Some rate anime base on enjoyment and some rate base on a complex analysis of the different elements of the show but both approach are still correct. There is no pure objective in rating show, but it can be a mix of subjective and objective insights depending on the personal standards.
The rating of an anime is up to you on whether you want to rate it a 1/10 or 10/10. I don't really care about the rating. Rather than judging the anime by other's rating and reviews, It's much easier to watch the anime and decide for yourself.
---
Best anime per genre
Date : 23/5/2020
So how this works is that I choose the best anime I watched in that that genre.
ROM-COM. My favorite genre. Here are my 10 favorite rom-coms.
Why people watch anime
Date : 12/5/2020
Anime is much more than just a cartoon. It is a whole new world for those who cherish great story lines with the right style of animation. Anime leaves your eyes with awesome visuals which are impactful enough to last forever and plots worthy enough for re-watching.
Most people seem to hateanime. All the criticisms, stereotypes and accusations over the years are proof of that fact. But as for anime fans like myself, there's a good reason why we love anime so much. And why we enjoy it more than any other form of entertainment.
Why I watch anime
It makes me happy. All the vivid colors, Creative New Worlds and amazing characterization. Well not every anime is a laugh and live show but anime makes us happy no matter how much you want to skip the whole thing.
2. It has comedy no "realistic" film could ever pull off and the facial expressions are just ridiculous. No reading for this just see the pictures and you'll get it.
3. I learn new things and explore meaningful concepts. Well since a typical anime is Japanese, it can be educational for us. I know learning a language is hard but while watching all those animes, I'm getting a hang of it. I can learn a little bit about the Japanese culture regardless of what anime I'm watching. Even though animes are totally unrealistic they always teach us something. For example the value of friendship, brotherhood and other important things in life.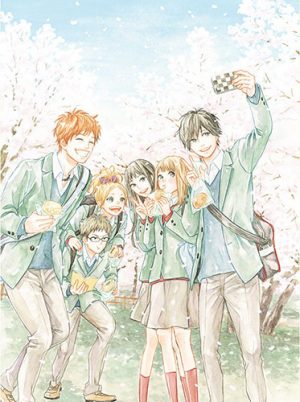 Anime always has the best cure for a bad day. So now back to the question, why I watch anime. Well firstly it provides me a much needed escape from the reality. The characters are relatable. As soon as you watch them for a few episodes you develop a deep bond with them. And finally because it's weird and different. No other form of show or entertainment is comparable to anime. And because it's a little weird it's got what it takes to be unique.
---
My quarantine anime list
Date : 30/4/2020
As you know I watch a lot of anime and during this quarantine I'm just going on a roll. So here is my quarantine anime list. This quarantine is the perfect time to catch up on my anime life.
Attack of titan. Yeah unfortunately I only saw a few episodes of it. So this a perfect time to continue the series.
Ace of the diamond
Tanaka-kun is listless
Dr.stone
Kaguya-sama: Love is War
Fruits basket. The new one.
The Disastrous Life of Saiki K: Reawakened
Fire Force
Mob psycho 100 II
Quintessential quintuplets
A list of anime movies to watch during quarantine:
City Hunter: Shinjuku Private Eyes. One of the best classic anime.
The Relative Worlds
My Hero Academia: Heroes: Rising
One Piece: Stampede
KonoSuba: God's Blessing on this Wonderful World! Legend of Crimson
Code Geass: Lelouch of the Resurrection
The Girl Who Leapt Through Time
5 Centimeters per Second
Your name
Demon Slayer: Kimetsu no Yaiba the Movie: Mugen Train